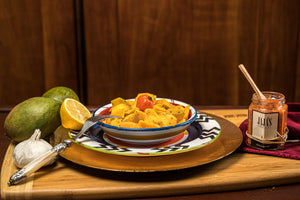 The compliment to your quick meal
Often, after a long day I simply boil some boxed pasta, add lemon, garlic and top with a splash of JaJa's Pepper Sauce. Dinner, done.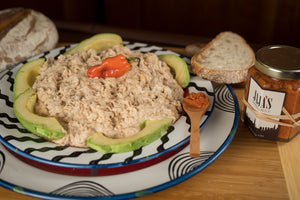 The depth of flavor has more to offer you than heat
My husband is not a spice-lover. But, tempered down with a quick tuna mix or spread on bread, the depth of flavor in my craft roast pepper hot sauce wins him over.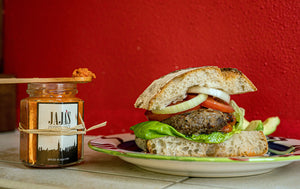 Trinidadian, Americanized
I started selling my family's secret Trinidad hot pepper sauce because my American friends would use it to top everything from their morning eggs to their evening burgers. 
Peppered with Praise
Huge fan of JaJa's pepper sauce! I use it on literally everything. Salads, pasta, simple
steamed veggies. I even used it to spice up hummus! Mix a little soy sauce in with it and
you have a spicy asian flavor that is great for marinating meats and seafood. Spicy
Bloody Mary anyone? That is great too. Love this hot stuff! If you like heat you will love
this sauce. JaJa's has me hooked! She got me!"

Kristina Albaugh - JaJa's Superfan, Rhinebeck, NY
This hot sauce will give life and most importantly, flavor, to any dish you eat! Whether stand alone as a dip or mixed into a sauce, there are a million ways to enjoy it!

Stephanie Cheung, Brooklyn, NY
I've been a customer for some time! The JaJa Hot Sauce is more than a sauce; it is a flavorful sauce that works well on almost everything. Most hot sauces if not all have the heat only. But with JaJa, expect some heat, spices, and flavor to jazz up your favorite dish.

Jenn N, New York, NY
We fell in love with this sauce from the first bite. It now has become a main additive in a lot of our foods. We just cannot get enough of it.  It's an addiction. A real good one...

Hassan Galadari, MD, Dubai, UAE
Three generations of perfected spices that blissfully captures the flavorful essence of the Caribbean Islands and the pure heat of a Trinidadian's soul.  JaJa's Pepper Sauce is your gateway paradise to a memorable taste that unlocks your passion craving for wanting more on any dish.  Cheers to Jacqueline for sharing our family's secret treasure with the world. Enjoy!

Andre F. Hewitt, Esq. Founder & COO/CLO of Game-U